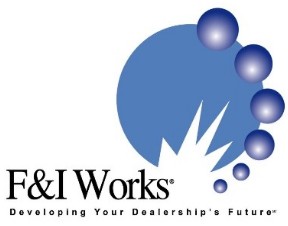 F&I Works®  is a dealership F&I Solution. While it includes a Flexible menu selling tool, MenuWorks® has a Powerful Reporting tool: FOCUS®.
F&I Works® provide dealers with the most comprehensive combination of Menu Software and Reporting Capability available anywhere! There are many menu software programs available, there are also many reporting tools…the problem is, they just don't talk to each other. Ours Does!
F&I Works® consists of two harmonized elements all designed in the laboratory of the F&I Office.
Menu Works® allows an F&I Manager to create customized menus in a matter of seconds with just a few clicks. Deals can be pre-loaded and stored to deal with peak delivery times. Easy to use, completely customizable, fast and accurate,"Menu Works®" exceeds the functionality of any other program currently available. Once the deal is complete, the deal can be permanently stored with just a click of the mouse…no more hand writing F&I logs (or worse, letting the ADP system just keep track and ignoring performance until the end of the month!).
Focus Reporting® provides comprehensive reporting capabilities that are an F&I development dream. Completely integrated with "Menu Works", once the deal is stored in "Focus" you can generate over 90 different reports, each slicing into the factors that influence F&I production…individual F&I Managers performance, effectiveness of desking managers, salesperson support levels…you name it, stuff that used to take hours to compile by hand is now available at the touch of a fingertip. "Focus" also allows reports to be e-mailed, allowing development personnel to do their homework and plan their call before going into the store…a significant boost in productivity…all your time can now be used in the "cure" rather than in "diagnosis." Pricing is very competitive and allows for unlimited users within the dealership.
F&I Works® is a software system provided by aka Partners Inc., a specialized software development company. As developers of the finest F&I finance systems of it's day, they have spent the last several years seeking the perfect combination of tools that would provide incredible value to both the dealer and the independent agency who service the dealer's business. With F&I Works®, they have achieved a milestone in making bigger numbers happen easier and faster. At F&I Works we are excited to provide dealerships with the ability to grow your sales and profits in your finance office. We also offer an agency program to regionally market this innovative product. To find out more now, please feel free to contact us at (630) 789-9427 or via email at:
©2004 – ©2016 – F&I Works®