Cilajet – Proven in the Aerospace Industry, Now Available for the Automotive Industry. 
Cilajet was brought to the automotive industry as the first true, anti-corrosive Boeing approved "aviation grade" paint sealant… now available exclusively through automotive dealerships. Because cilajet is so unique, and best-in-class in its amazing results and performance, it is the product of choice for many high line automotive enthusiasts. Our customers include dealers who specialize in Ferrari, Bentley, Rolls-Royce, Porsche, Aston Martin, Jaguar, McLaren, Mercedes-Benz, BMW and Audi. And our customers also include Toyota, Honda, Ford, Hyundai and Kia. Cilajet is for the person who wants to make their car look amazing, and get to enjoy that experience for years… no matter what your choice of vehicle.
Cilajet auto paint protection conforms to the most recent Boeing Specification (D6-17487 Rev.R). It was developed as a commercial aerospace product, and is now made available to you through the auto industry. Cilajet is a proven and unmatched world-class paint sealant that was developed exclusively through the aviation industry for the purpose of slowing down the corrosion process on paint. Conforming to aviation standards is extremely difficult as aircraft are subject to much harsher environmental conditions. Commercial jets can fly 600+ MPH at 30,000 feet through rain, clouds, dust, sleet, snow and extreme temperature changes. What a commercial jet sees in just one week, a car may never see in its lifetime! Cilajet is not like a traditional "auto paint sealant" wax or other coating commonly made available to consumers via detail facilities, paint and body shops or retail stores. – See more at:
http://www.cilajet.com
Cilajet Auto Paint Protection for Exterior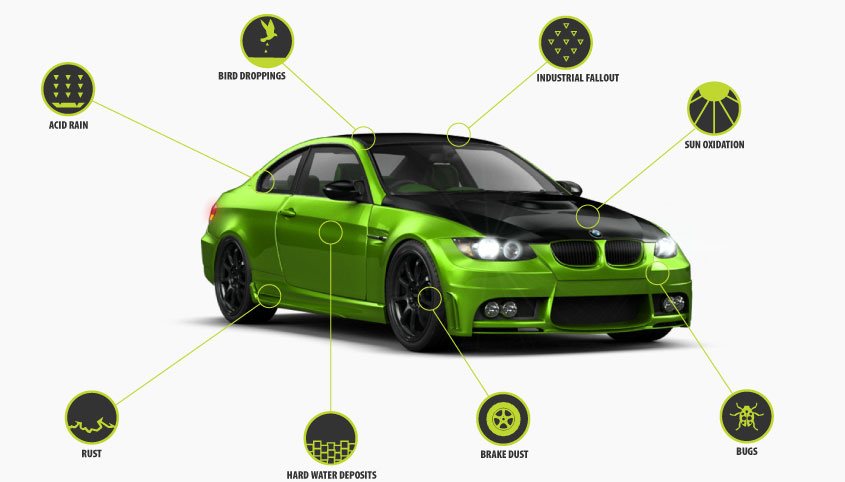 Cilajet is the best auto paint sealant on the market. It's unique exterior formula resists a variety of environmental contaminants that may adhere to the surface of your vehicle. Not only does our proprietary molecular bonding formula provide a lasting mirror-like shine, but it also repels contaminants such as dirt, grease, bird droppings, tree sap, acid rain, mineral deposits, and industrial fallout. Cilajet auto paint protection has also been proven to prevent sun oxidation, paint fading, and protects against rust, salt and ice! The product is also applied to steel, chrome, aluminum or alloy rims to help eliminate brake dust buildup! Your vehicle will stay clean longer, and will be easier to clean than ever before. Cilajet car paint sealant reduces the frequency of car washes, and eliminates the need for regular waxing.
While cilajet's products offer the industry's best car paint protection, they are also GREEN and environmentally friendly! Cilajet Aviation Grade is less than 10% VOC, or volatile organic compound (basically, the amount of product that will vaporize and turn into low level ozone).
Cilajet Vinyl/Leather and Fabric Protection for Interior

Cilajet automotive interior protection products, HIDE and FAB, are ZERO VOC and HYPOALLERGENIC! We also pass California Prop 65, which means that our auto paint protection products contain no known cancer causing agents.
Cilajet also offers the ultimate protective treatment for the interior of your vehicle with the best upholstery and floor mat protection, Cilajet Fab; and the finest leather and vinyl seat protection, Cilajet Hide. Cilajet Fab is used to protect cloth seats, carpets, floors and floor mats and prevents permanent staining from food, drink, oils, lotions, pet stains, gum and more! Cilajet Hide is one of the highest grades of leather conditioner available on the market today. Cilajet Hide conditions and protects your leather and vinyl seats from drying, fading, and discoloration. – See more at: http://www.cilajet.com
Why auto enthusiasts choose Cilajet car paint sealant

Because Cilajet auto paint sealant is so unique, and best in class in its amazing results and performance, it is the car paint sealant of choice for many high line automotive enthusiasts. Our customers include dealers who specialize in Ferrari, Bentley, Rolls-Royce, Porsche, Aston Martin, Jaguar, McLaren, Mercedes-Benz, BMW and Audi. Cilajet is typically used for new vehicles but Cilajet car paint sealant is able to restore used vehicles to a mirror-like shine making it a great product for pre-owned vehicles as well! Additionally, our customers include, Toyota, Honda, Ford, Hyundai, Kia and many others. Cilajet is for the person who wants their car to look amazing, and gets to enjoy that experience for years… no matter what your choice of vehicle! – See more at: http://www.cilajet.com